The Porsche Cayman GT Ultimate
This Package is for drivers that want to really progress. First, an unlimited session in the simulator to practice your race lines, next, a 6-lap session with 2 accompanying demo laps driven by your instructor. Then a 7-lap session followed by a telemetry download and analysis(optional extra) with your instructor. After review of your analytics will be a final 7-lap driving session.
---
Description of Experience
6 lap driving session
2 demonstration laps by the Instructor
7 lap driving session
Telemetry download and analysis(Optional Extra)
7 lap driving session
Final telemetry download (Optional Extra)
Video of all sessions
3D Simulator session (approx. 20 min)
Use of racing suit, helmet with intercom and head sock
Classroom session in the Dream Racing™ Theater
Round trip transportation from Crystals™ at CityCenter + 1 companion
Access to Dream Racing™ Lounge + 1 companion
Open Coffee Bar, Snacks and Wi-Fi
Merit Certificate of The Experience
---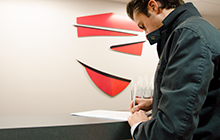 Step 1
- Registration
When you arrive at Dream Racing, one of our hostesses will greet you and assist you in the registration process. At this time you'll be asked to show a valid driver license.
Step 2
- Classroom Session
After the registration it's time for an educational video in our theater. This video gives you a quick lesson of the mechanics of the race car you are about to drive. It also explains how to properly handle the Porsche Cayman GT using correct driving techniques, as well as safety procedures. An animated motion graphic illustrates the use of the ideal driving lines for each turn of the track.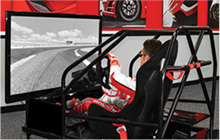 Step 3
- 3D Simulator Session
The next part of your training will take place in our 3D simulators. Each simulator has been built to specification of the actual Racing Ferrari F430 GT. The simulator boasts a roll cage, the same racing seat, steering wheel, paddle shift, pedals and dashboard as the real Ferrari F430 GT. You will train on an exact laser scanned replica of our track, so if you feel a bump in the simulator, the same bump exists out on the track.
Step 4
- Suit Up
Next, enter into our dressing rooms to get suited up in your professional racing suit and helmet for optimal in-car communication with your instructor.
Step 5
- First driving session
Finally, the moment you've been waiting for: get behind the wheel of the racing Porsche, strap in and start your engine! You're in control, it's time to hit the track for your first driving session. 6 laps around the Las Vegas Motor Speedway infield road course.
Step 6
- Demo Lap Session
Your racing instructor will now take the drivers seat to drive you around the track for an additional 2 laps. These laps give you the opportunity to understand the full power of the Porsche Cayman GT as well as help you to understand the proper lines needed around the turns, braking capacity and speed needed to maximize your lap time.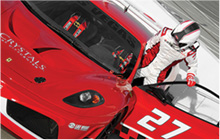 Step 7
- Second Driving Session
It's time to buckle up again for your second 7 lap driving session. Let's put in to practice all the tips you get from your instructor.
Step 8
- Telemetry data analysis
As an optional extra, telemetry data analysis is a powerful instrument used by professional drivers. After our race technician downloads the race data of your driving session, the instructor will analyze and discuss the details with you to find ways to improve your performance on different areas of the track.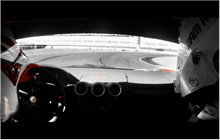 Step 9
- Third Driving Session
Following your data analysis you will get back into the race car for a final 7 lap session. These laps give you the chance to take all of the information provided to you by the telemetry technician to better your lap times. At this point in your experience you will find yourself pushing the race car faster then you ever thought possible.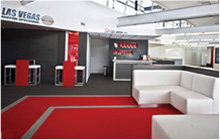 Step 10
- Cool off in our Lounge
After the adrenaline subsides, relax and unwind in our Dream Racing Lounge with its open coffee bar, selection of snacks, and wi-fi. If you have purchased the onboard video prior to your driving experience you'll be able to view it at this time in the lounge.
Our Covid-19 Policy
We are closely monitoring the guidance of the World Health Organization and the Centers for Disease Control regarding the spread of the virus.  Our focus is to ensure we meet customer needs in connection with their participation in the driving experiences while doing our part to help keep you, our employees, and our communities safe.
Consistent with CDC guidelines we no longer require the wearing of a mask or physically distancing if you are fully vaccinated.  If you are not, you will be required to wear masks while on the premises or participating in any driving experience.
Our Staff will continue to greet guests with applicable social distancing and a contactless introduction.  We have also asked our staff to limit physical interactions including refraining from taking photos with the guest's camera or mobile phone.
Specific to the driving experiences:
We enhanced the techniques used to clean our vehicles before and after each experience.  In particular, we are paying special attention to interior customer touchpoints such as seats, steering wheels, door handles and other hard surfaces.
We do not require wearing our racing suits during the driving experiences. However, note that if worn, the suits provided to you will have been laundered prior to each use.
The classroom session, demonstration laps and simulator sessions remain optional.