The Lamborghini Huracán GT
Lamborghini's legendary Squadra Corse combined forces with famed chassis expert Dallara and designed this race car with the goal of dominating everything in its class. Dream Racing is excited to bring you the chance to drive a car once reserved for professionals at the top of their game and an experience found nowhere else in the world.
Perhaps the fastest GT on the planet
---
5.2 liter V10 Engine
Max Power: 612 HP (620 CV) @ 8250 rpm
Top Speed: 205 mph
Acceleration: 0-60mph = 3.1s
Torque: 419 lbs/ft (570 Nm) @ 6500 rpm
6-speed, 3 disc racing clutch with F1 paddle shift
18″ Pirelli PZero racing slick tires
Racing Traction control and ABS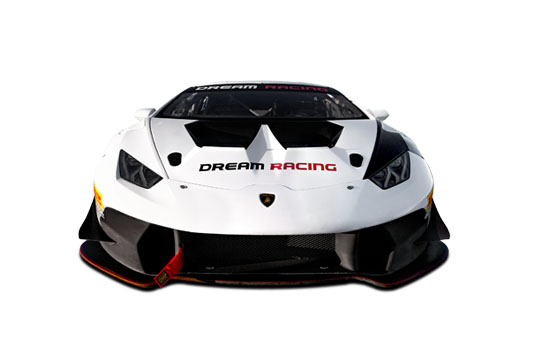 ---
How fast is it?
we compared the lap times of these three cars on our 1.2 mile road course
Lamborghini Huracan ST
5.2 L - 620hp
Lamborghini Huracan
5.2 L - 610hp
Fiat 500
1.4 L - 100hp
Best Lap
+ 7 sec
+ 19 sec


---
FAQ ABOUT OUR RACING EXPERIENCES
---
---