The Porsche Cayman GT
The Cayman GT was created to open your eyes. A thoroughbred racing machine. A force of nature, too extreme for the street, but absolutely perfect for the race track. Tuned for maximum driving pleasure. Its genes are 100% Porsche and its heart beats right where it should for any Cayman. In the middle. The power of the Cayman GT has been primed, casting off its streetlegal status along the way. Welcome to the race track. The most compelling arguments of the Cayman GT: a 3.4-litre mid-mounted flat engine, 261 kW (350 hp), maximum torque of 380 Nm, all adapted to the demands of the track.
Do it like the pros.
---
3.4-liter six-cylinder boxer engine
Max Power: 350 HP (261 kW) @ 7,400 rpm
Top Speed: >169 mph
Acceleration: 0-60mph = 3.9s
Torque: 280 lbs/ft (380 Nm) @ 5,600 rpm
7-speed dual-clutch PDK transmission
Pirelli P Zero racing slick tires
Rear wheel drive
Racing suspension
Racing Traction control and ABS
Advance aerodynamic downforce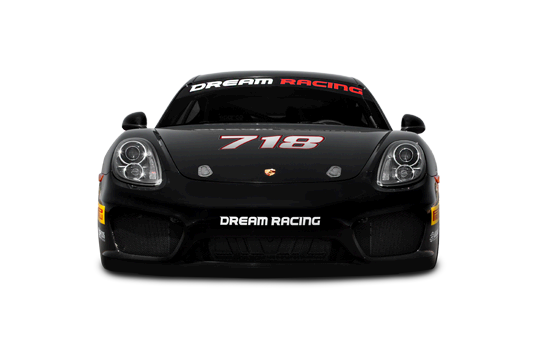 ---
How fast is it?
we compared the lap times of these three cars on our 1.2 miles road course
Porsche Cayman GT
3.4 L - 350hp
Porsche Cayman GTS
3.4 L - 340hp
Fiat 500
1.4 L - 100hp
Best Lap
+ 10 sec
+ 18 sec


---